Call Us for a
Lower Price!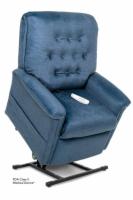 The Pride GL-358PW ensures satisfaction for the customer. It has an extra wide seat and has 3 recline positions that are great for comfort and relaxation. It has a wide variety of features and colors and fabrics that are sure to satisfy you. These are built to last and offer quality care for a very long time.
| | |
| --- | --- |
| Recline Positions | 3 |
| Back Type | Button (Firm) |
| Weight Capacity | 375 lb |
| Chaise Seat | Yes |
| Minimum Recommended Height | 4' 9" |
| Maximum Recommended Height | 5' 3" |
| Floor to Top of Seat | 19" |
| Seat Depth | 19" |
| Seat Width | 24" |
| Distance Required from Wall Reclined | 17" |
| Battery Back Up | Yes |
| Head Rest Cover Included | Yes |
| Arm Covers Included | Yes |
| Left Hand Control Available | Yes |
| Heat & Massage Option Available | Yes |
| Foot Rest Extension Option Available | No |
| Fire Retardant (California Specifications; bulletin 117) | Yes |
| Warranty | 7-Year pro-rated, Lift Mechanism: Lifetime |
Product Reviews
Truly a Blessing and Salvation

Oct 24, 2013 7:48 AM

KarenJ

from

Tennessee

would recommend this to a friend.

A Little About Myself

Dedicated daughter

Pros

Sturdy, substantial, quality, attractive, well-crafted, a blessing.

Cons

Needed this model with a 23" wide seat. Other than that... you've hit the nail on the head with this model for my family.

Service & Delivery

THE WORST!!!!! My mother's apartment is through a fence around the side of a house. The delivery man REFUSED to bring it to her apartment. He sat in his truck WATCHING my sister struggle to push this box through the fence to my mother's apartment! He was in the truck IN THE DRIVEWAY the whole time!!!! He was a dispicable human being, and if I had been there, it would have gotten ugly.

My mother was diagnosed with advanced stages of lymphodema (an extreme-the likes of which you will never see in your life time-swelling in her legs). Her legs are so heavy she cannot lift them to lie down. She sleeps and sits in this chair. It's the only chair that can hold her legs up. We don't know how long it will, but for right now, it has been her salvation.
lift recliner

May 2, 2013 3:26 AM

ca back person

from

youngstown, new york

would recommend this to a friend.

A Little About Myself

Hurting alot

Pros

Truly enjoy the built in heat. It has been a long time since I've had more than 5 hours of peaceful sleep.

Cons

Not to keen on the massage, maybe it will just take time to get comfortable with it. I'm a short person and I have to use a neck pillow, so that my head and neck doesn't have an arch in it, which does cause neck pain as my neck doesn't touch the headrest.

Service & Delivery

KEITH ADAMS DID AN EXCELLENT JOB OF INSTALLING AND DISPLAYING THE NECESSARY BUTTONS ON THE REMOTE CONTROL. HE ALSO REMOVED ALL OF THE CARD BOARD AND PACKING MATERIAL.

Wonderful customer service from Tanner Melton, he did everything that I asked for and beyond his duties. He worked well with my wc carrier on the west coast and my adjuster. WHAT A TRUE CUSTOMER SERVICE REP THAT ACTUALLY RETURNS PHONE CALLS IN PERSON, AND NOT AN ANSWERING MACHINE IN PLACE OF A HUMAN BEING, WHICH IS VERY RARE THESE DAYS.
Pride GL-358PW

Feb 15, 2013 11:18 AM

Mag the third

from

Nebraska

would not recommend this to a friend.

A Little About Myself

Over 65 with bad knees

Pros

Very good looking chair and works great for reclining and lifting

Cons

Does not have enough cushion in the seat. Not comfortable after sitting for about 1 hour.

Service & Delivery

Delivery service is great

Would not recommend for any heavyweight person