Call Us for a
Lower Price!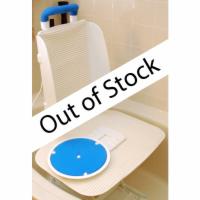 A 1-year complete warranty is provided for all AmeriGlide bathlifts.

The AmeriGlide Premium Bath Lift is a battery operated, two piece bath lift. Because it is a two piece bath lift it can be transported easily to another bath or brought with you as you travel. When lowered, it can be reclined to the angle you find most comfortable for bathing.

The hand control is fully waterproof, floats, and is very easy to understand and use. The buttons have different shapes and indicator lights so you can tell them apart in a variety of ways. The battery has a safety mechanism that will not let you lower the lift unless there is enough power remaining to lift you up again.

You'll never have to worry about getting out of the tub with the AmeriGlide Premium Bath Lift.
| | |
| --- | --- |
| Lifting Capacity | 375 lb |
| Power Source | Battery |
| Seat Width | 15.3" |
| Seat Depth | 22.8" |
| Seat Height, Lowered | 3.1" |
| Seat Height, Raised | 18.1" |
| Backrest Width | 13.4" |
| Backrest Height | 23.8" |
| Weight, Unit | 28.9 lb |
| Weight, Seat | 16.3 lb |
| Rotating Seat | Optional |
| Installation Method | Suction Cups |
| Warranty | One Year Complete |
| Seat Width - Flaps Down | 27" |
| Reclines | Yes |
| Padding | Removable, washable back & seat covers |